Mini Silicone Foldable Funnel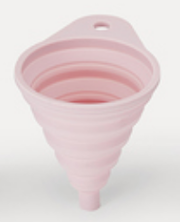 Mini Silicone Foldable Funnel
This fantastic Mini Silicone Foldable Funnel is such a flexible and handy tool to have around.  Collapsible and easy to store, but strong, lightweight and versatile.
Great to use in your kitchen for dry or liquid ingredients, but also suitable for out of home.  Keep in your kit for travelling or camping and also perfect for the gym for protein powder and pre/post-workout drinks, baby formula & foods.
Made from 100% BPA free food grade silicone.  The funnel can withstand temperatures of up to 250oC and -40oC.  Wash by hand with soap and water or in the dishwasher.
Weight : 60 grams
Dimensions : 11.9cm X 11.9cm X 11.4cm