Sunbutter Tinted SPF50 Reef Safe Sunscreen (100 gram)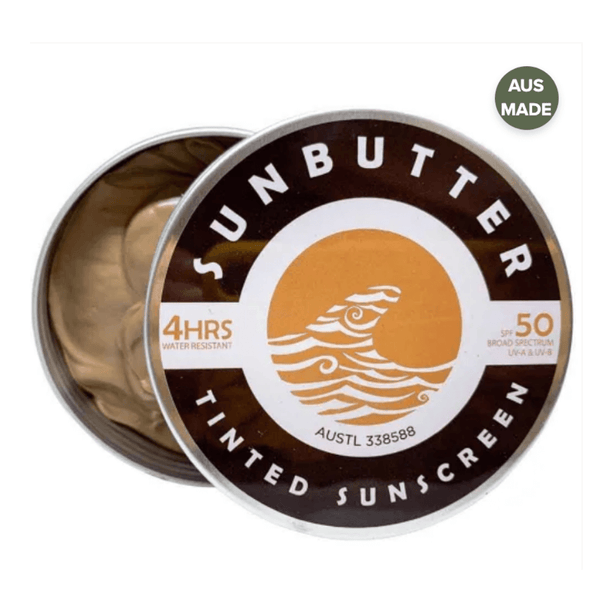 Sunbutter Tinted SPF50 Reef Safe Sunscreen (100 gram)
Sunbutter Tinted broad spectrum SPF50 is a new generation of suncare that is skin and earth conscious. A sunscreen that won't give you chemical induced breakouts or stinging eyes. A skin-safe and reef-safe formula you actually enjoy putting on.
Say hello to The Wellness Awards 2021 Judge's Choice Winner for Best Complexion Product. Sunbutter tinted SPF50 is the perfect combination of high level sun protection with a beautiful tan tint!  Great for a range of skin tones wanting a bronze glow or a better shade match. If white mineral sunscreens make you look washed out, this is our answer. Made with a gentle, vegan and cruelty-free formulation that will make you fall in love with a daily sun care routine.  Can be used under your make up or on its own.   Packaged plastic free in a reusable, screw-top tin.
INGREDIENTS:  
Active Ingredients: Non Nano Zinc Oxide 227.5mg/g
Inactive Ingredients: Medium chain triglycerides (from coconut oil), Coco caprylate caprate (from coconut oil), Castor oil, Candelilla wax, Coconut oil, Theobroma oil (Cocoa butter), Polyglyceryl-3 polyricinoleate (vegetable based emulsifier), Natural vitamin E, Isostearic acid (plant based binder), Iron oxides.
Sunbutter Sunscreen is made from natural ingredients that don't pollute the sea, aggravate your skin or harm the planet. Fewer high quality ingredients means more potent goodness, greater certainty of ethical supply chain and less foreign ingredients entering our waterways and oceans. 
HINTS:  
☀️ Wipe around the rim and thread of the tin occasionally to remove sand and grit that can make it tricky to open.
☀️ Store your tin flat - never on its side.  
☀️ Store below 30 degrees ~ like all sunscreens.
☀️ Upcycle your tins before you recycle them - (store earrings, sewing needles & threads, small batteries, loose change).