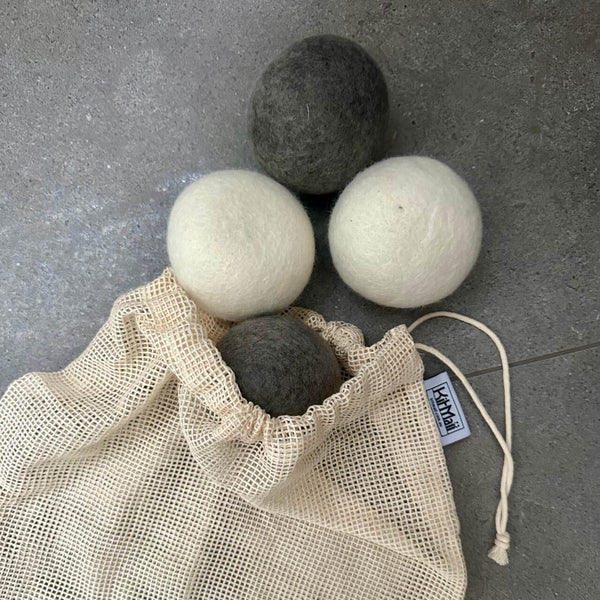 Wool clothes dryer balls are such a simple but wonderful tool to make your tumble-dryer work better. They roll around in the dryer, between your clothes, linen and towels. The hot air moves around more efficiently, so your laundry dries faster, they help the clothes dry softer working as a natural fabric softener, help reduce static and reduce the need for ironing.
Directions:
Pop the balls in your dryer in between your wet washing (but don't overfill the dryer so items can circulate freely).   
If you like freshly scented laundry, you can add a couple of drops of your preferred essential oil to the dryer balls - lavender, orange, lemon, tea tree oil, and rose are good choices.   
* On the other hand, some essential oils have a lower flash point, meaning they can become flammable at relatively low temperatures.  It's best to avoid such oils in a dryer setting, as the heat from the dryer could potentially reach its flash point. Examples of these include fir needles, spruce, and some types of pine oils.
Others like thyme, cinnamon, and oregano essential oils can be irritating to the skin and are generally not recommended for use on clothing that will be in direct contact with your body. 
Wool Clothes Dryer Balls are made from pure New Zealand wool, with zero fillers, additives, or chemicals. They are super sustainable, lasting for up to approximately 1,000 loads.
Recharging your Wool Clothes Dryer Balls :
About every 100-150 loads you can revitalise your wool dryer balls in a couple of ways.  
Sun Drying: 
One of the easiest ways to recharge wool dryer balls is by exposing them to direct sunlight. Simply place the dryer balls outside on a sunny day and let them soak up the sun's rays for a few hours. The sunlight will help refresh the wool fibres, eliminate any odours, and restore their effectiveness. This method is natural, free, and doesn't require any additional products.
Machine Washing/Drying :
Place the wool dryer balls into a sock or pillowcase.  Wash in laundry tub or in the washing machine on a gentle cycle with a mild detergent.  Place outside in the sun or in the clothes dryer to dry.  The Dryer Balls will be fresh and bouncy again.
Each pack includes 4 (2 grey, 2 white) or 8 (4 grey, 4 white) wool dryer balls in an organic cotton reusable produce bag.