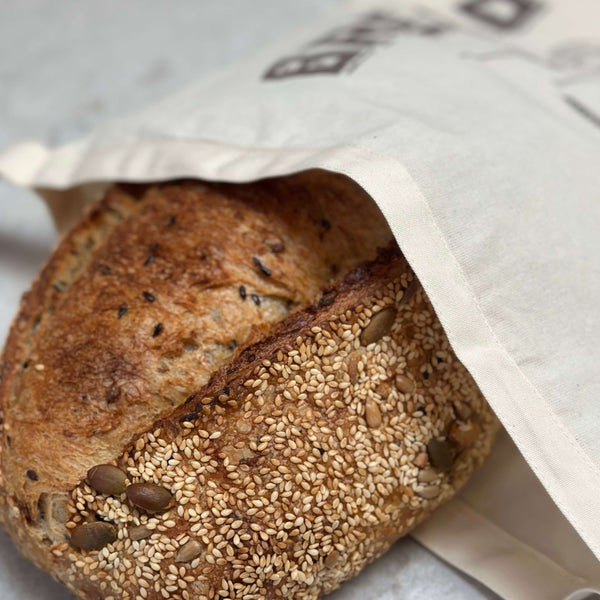 Introducing our eco-friendly and durable reusable linen bread bags, designed to keep your bread fresh and delicious for longer  Our bread bags are made of high-quality linen fabric and feature a plastic lining constructed from BPA free recycled drink bottles.  These make the bags both waterproof and food-safe.
Product Features
ECO-FRIENDLY: Reduce plastic use with our durable lined bread bag, constructed from linen outer with lining made from recycled water bottles
FRESHNESS LINER: Our interior bag liner helps to maintain freshness by minimising air flow
EASY CLOSURE: Simply roll the bag closed and fasten with the attached buckle. This also doubles as a convenient handle
Perfect for all types of bread from crusty artisan loaves to soft sandwich break, croissants and pastries.  The lining ensures that bread stays fresh and moist without the use of single0-use plastic bags that harm the environment.
Size: 32x43cm;
Weight:102g;Material: cotton linen+food grade TPU
Machine washable
Freezer proof
Made from completely natural and renewable fibres
Our bread bags are also easy to use and maintain. They come with a convenient clip closure that keeps your bread secure and also acts as a nifty handle.  Bread bags can be washed by hand or in the washing machine (best to place in a laundry bag to avoid clip catching on drum of washing machine). 
Not only are our bread bags environmentally friendly, they're also stylish and versatile. So if you love the taste of fresh bread, our reusable linen bread bags are the perfect solution for keeping your bread fresh and reducing waste. Order yours today and enjoy the benefits of eco-friendly bread storage!