Reusable Bamboo Cutlery Set with Straw in Pouch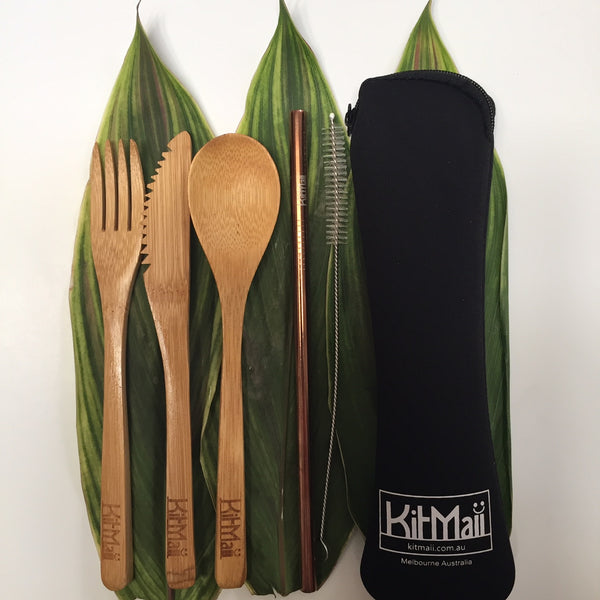 Reusable Bamboo Cutlery Set with Straw in Pouch
Want to say 'no thanks' to plastic and other disposable cutlery?   Then try our fabulous reusable Bamboo Cutlery Set.  It's such a great addition to your eco-friendly reusables kit.  
Made from 100% bamboo, the kit comes with a knife, fork, spoon, stainless steel straw, cleaning brush and comes in a handy washable pouch - convenient and practical and fits easily into your bag. 
Cutlery is approximately 19.5cm long;
Stainless steel straw is 8mm diameter so is perfect for juices, coffees, cocktails & smoothies;
the pouch is available in either black or beige & is easy to wash, dry and reuse;
cutlery isn't sharp, so perfect for children to use too;
It's recommended to rinse bamboo reusable cutlery after you use it and occasionally wipe over with an oil like coconut, hemp or walnut to keep it supple.  (It's not advisable to put bamboo cutlery in the dishwasher)
Due to the nature of bamboo, the colours may vary slightly.  Our bamboo cutlery sets have been treated with vegetable oil and are not sealed with any added chemicals; 
(Colour of straw in the set may vary from that pictured, but will be a KitMaii engraved straw bent or straight with a cleaning brush)*
Single-use, plastic or disposable cutlery takes an eternity to break down and ends up in landfill or in our oceans where it causes so much damage to our wildlife and sealife.  Bamboo is a very fast-growing, renewable resource that at the end of its life can be returned to the ground🎋
*We have bent or straight straws in black, silver, gold & rose gold.  If you have a preference, pop a note in the 'Order Notes' section of the 'Your Shopping Cart' page.