Reusable Facemask - Shiraz Check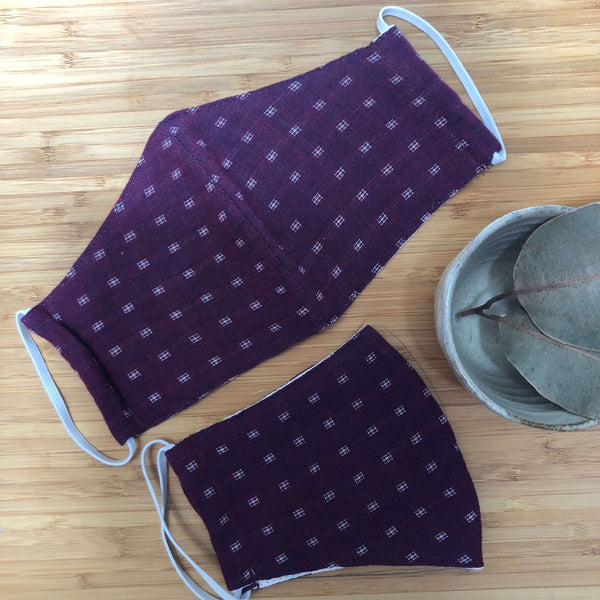 Reusable Facemask - Shiraz Check
"Love these masks, they look just like the picture and I also like the little filter pocket where I pop in a tissue for extra protection. The masks were shipped really quickly and I received my order in a couple of days. Would highly recommend masks and KitMaii Thank you!" - Sarah - KitMaii Customer
Beautiful, unique, reusable handmade 3 layer cloth facemasks made with love and care from high-quality fabrics.
FABRIC:
Cotton/linen blend outside, 

100% soft cotton inside;

3 layers with filter sleeve (for a filter, tissue, paper towel if desired);

extremely comfortable, lightweight & easy to wear;

Each order comes in a mini reusable organic cotton produce bag.

Grab a facemask strap too - you will never forget your mask!
MEASUREMENTS:
Adult: Approx 23 cm wide from seam to seam & 13cm high in the centre over nose area, tapering down to a width of 7.5cm at the side seam near the ear.

Kids: 18cm x 10cm (7cm near the ear); usually fits approximately 4-9 year olds.

Very comfortable to wear and roomy around the nose area, elastic loops around the ears.
Most people have 3-5 facemasks to keep in rotation - wear, wash, dry, repeat.
- Wearing and Caring for your Masks:
Other uses for Reusable Cloth Facemasks:
Reusable facemasks are great if you are allergic to pollen, smoke, or creating arts and crafts activities. 
* Please Note: These masks are not medical grade or a replacement for a medical-grade mask, but a reusable and eco-friendly alternative to disposable masks for general use. 
Our masks are handmade in small batches in two locations.  A small business in the North of Thailand makes the neutral tone masks.  The business is providing employment to locals who would normally rely on tourism, but due to Covid, very few people can visit and there are no welfare payments in Thailand. (Our family lived in Thailand for many years, so Thailand is very close to our hearts).   
The more colourful, patterned masks are handmade here in Melbourne by very talented Julii.