Natural Approach Deodorant Peppermint, Spearmint & Tea Tree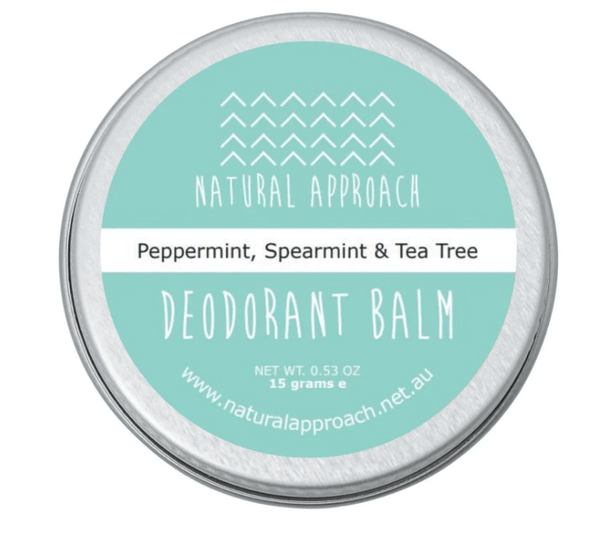 Natural Approach Deodorant Peppermint, Spearmint & Tea Tree
If you love the refreshing and uplifting scent of mint, you're bound to love this blend. It really packs on a minty punch with lashings of peppermint, spearmint and tea tree essential oils.
Benefits:
Highly effective odour protection.
Easy to apply and absorbs quickly.
100% naturally derived, safe,

 

toxic free

 ingredients.
What's to love?
Over 80% certified organic ingredients.
Cute reusable & recyclable screw-top tin.
No animal testing.

Every tin sold helps plant a tree in Australia via Habitat Sanctuaries.

Lovingly handcrafted in regional Australia.
Wooden Spatula:
Some people like to scoop out their deodorant with the wooden spatula prior to application. Others just use their fingertip.
Application:
Massage a tiny 'pea' size amount under each armpit, once per day
Let it absorb before putting on your clothes
Remember LESS IS BEST!
How long will it last?
The 50 gram tins contain approximately 3 months worth of application (based on one application per day) and w

hile they are mini, the 15g tins will last approximately 3-4 weeks. A little really does go a long way. 
Ingredients:
Raw unrefined virgin coconut oil*
100% pure unrefined shea butter*
Premium liquid coconut oil
Tapioca flour*
Sodium Bicarbonate*
Locally sourced beeswax
Natural Vitamin E
100% pure essential oils:

 peppermint*, spearmint* & tea tree*
(* indicates certified organic) 
BICARB FREE VARIETY: While bicarb soda is an amazing deodoriser and widely used in natural deodorants, some people can find it a little irritating on sensitive areas like their armpits. Therefore, we developed a 'Sensitive Body' range that contains marine magnesium hydroxide.  This formula is super gentle and a highly effective natural deodoriser, making it perfect for those who have sensitive skin.
Caution:
Do not use if you have allergies to any of the ingredients. Please patch test prior to use and discontinue use if irritation occurs.  If pregnant or breastfeeding, consult your medical professional prior to use. This is especially important for products containing essential oils. Use product within 12 months of purchase. For external use only.