Handmade Soap Coffee & Spearmint Scrub Bar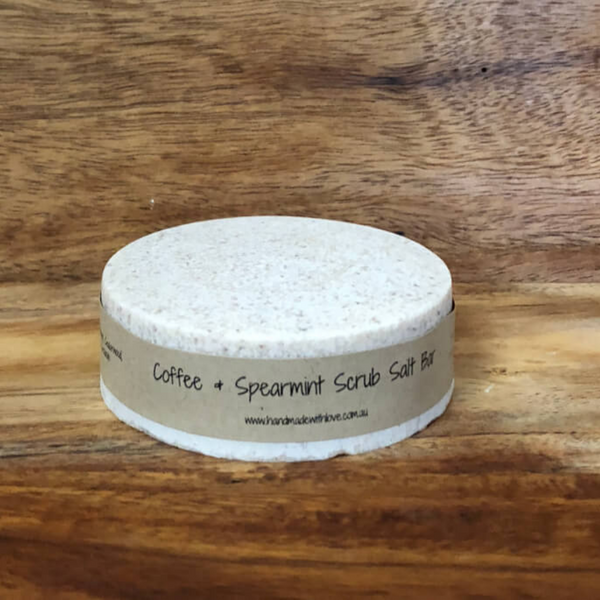 Handmade Soap Coffee & Spearmint Scrub Bar
Who doesn't like a good coffee scrub! This bar is packed with exfoliating coffee and scented with Spearmint, Cedarwood, Lavender and Lemon Essential Oils. Very fresh!! Pair this with a lotion bar for after your shower and your skin will feel soooo soft!!
These bars contain Australian Sea salts and are full of minerals beneficial to our skin like magnesium, zinc, calcium, potassium and more. Sea salts also draw toxins out of the body. Our salt bars are very hard bar and create a creamy lather that is wonderfully luxurious due to its high percentage of superfat (excess nourishing oils). A beautiful soap with wonderful benefits for your skin.
Sea salt soap lasts twice as long as regular soap bars in the shower because of the density and mineral content. The bars also weigh up to 25% more than a like-sized bar. If you haven't tried salt soap, you are in for a treat.
Ingredients:
Saponified Coconut Oil, Shea Butter, Australian Sea Salt, Coffee Grounds, Essential oils of Spearmint, Cedarwood, Lavender and Lemon.
Weight : 60-70g and 120-130g
PLEASE NOTE: weight is approximate only as the longer the soap cures, the lighter it gets and the soap is cut by hand. Every soap piece will be slightly different in weight.
Handmade Soap - Coffee & Spearmint Scrub Bar