PATCH Aloe Vera Bamboo Bandages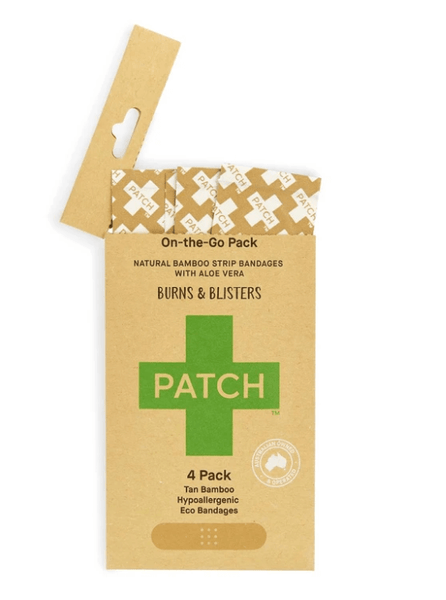 PATCH Aloe Vera Bamboo Bandages
PATCH Aloe Vera strips are perfect for sensitive skin and are hypoallergenic.
The Aloe Vera range is made from 100% natural bamboo fibre, enriched with Aloe Vera extract to help repair and soothe burns, blisters and minor abrasions.
Materials
Made with soft, natural bamboo fibre and Aloe Vera infused gauze with hypoallergenic Pressure Sensitive Adhesive (PSA), patching you up, so you can get on with your adventures.  

Benefits
Aloe Vera​ contains two powerful natural compounds (Polysaccharides and Glycoproteins), that assist with wound healing. The Aloe Vera extract assists perfectly for soothing burns and blisters.
Tubs of 25 regular size bandages.
On-The-Go packs of 4 regular size bandages.
Packs of Large Square & Rectangle bandages  (5 of each) - Size: Rectangle 75mm x 50mm.  Square 75mm x 75mm.
Size (Regular Bandages)